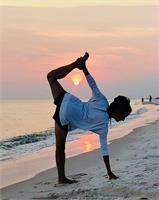 Yoga for a Healthy Back with Teresa Callahan
Saturday 4/10/2021 From: 2:00 pm – 4:00 pm
Move your way from an aching back to pain free using yoga postures, movement and breath. If you have been zooming, sitting, not able to move about, this workshop is for you. We will examine big muscles groups, the role they play in our bodies how they protect and carry us from place to place. We will learn and practice postures to strengthen and lengthen them, and to protect us for the long haul. You will leave with the knowledge of how to practice each posture safely. Be prepared to practice!
About the TeacherTeresa Callahan has been studying yoga for ten years. She is 200 hour, 500 hour, 1008 hours certified from Kelli Precourt, Santa Rosa Beach FL., and Janet Stone Yoga San Fransisco, CA. and Bali. She is passionate about the journey we take through and with our bodies. The meaning of yoga, the 8 limbed path, the showing up again and again, discerning who we are, what sustains us, what challenges us and what disciplines us is what Teresa desires to share with others through her teaching. She will often include stories and myths of the deities. The practice of yoga is so much more than warrior 2, boat to crow, sun salutations etc etc. (but those are super fun too, right?) It is digging deep to peel back the layers of what makes us curious, fearful, angry, happy, that makes us feel what we feel; it is self study, it is surrender, it is breath, sustainability, and balance, IT IS the ENOUGHNESS; the lotus flower growing from the muck and the mud to reveal beauty and abundance. The practice of this 8 fold journey helps us burn through that muck, the apathy and disruption to find our way on and off our mats to reveal our light and our truest selves. Om nama shivaya
Who Is This For? No yoga experience necessary. This class will be all levels and will facilitate movement in every day life.
What Do I Need to Bring? A positive attitude and a willingness to be curious about the reasons for our back issues. Mats are available as well as blocks and straps to use as props.
$28
---
---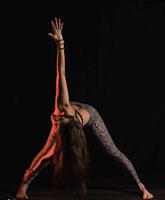 Katonah® Workshop with Kat Yates
Saturday 5/8/2021 From: 2:00 pm – 4:00 pm
We have added a second workshop to accommodate demand! Make sure to sign up early to save your place.
"The universe has pattern. Pattern belies intelligence; and by virtue of repetition there is potential for insight." 
"One's body is not a project or a problem; it is the place each of us is always and already living from." Our bodies are not abstract, nor are they delusional: they are the home of our reality. All of our lives happen right here; there is nowhere else to live from.
Our bodies and minds have never been split, although we have felt them to be. Embodied practice can turn us toward that reality and away from tendencies to dissociate.
Katonah Yoga, developed by Nevine Michaan over 40 years, fuses hatha yoga, theory, Chinese Medicine, and sacred geometry to shift out of autopilot and teach us how to work smarter, not harder. A super potent blend of breath, imagination, and formal approach, this practice offers practice tools and techniques to discern blind spots in our body and lives. By organizing ourselves in the middle of our circumstances – our sphere of influence – we can both look in and look out. We can see ourselves whole: finding fulfillment from within instead of looking toward outside sources…with the ultimate purpose of finding JOY!
Taking traditional shapes and approaching them in a different, more archetypal way, this practice can shed light on your unconscious habitual patterns, offering fresh insight and perspective. Its goal is to make you feel more empowered, more embodied, more centered, more radiant, more joyous, and more at home within yourself! If you are looking for a way to drive your own vehicle, to inform your own practice, to live from the middle of your circumstances, and bring the unconscious to the conscious – come check it out!
Whether you're brand-new to Katonah Yoga or a seasoned practitioner, this workshop will take you through new ways to traverse the terrain of your mind, body and breath. There's a lifetime of material that can be explored; each Katonah experience is completely unique. Expect some vigorous pranayama, insightful asana and heaps of theory. We hope you'll join us for Birmingham's third-ever Katonah Workshop!
T E S T I M O N I A L S ********************************************************************
When Kat mentioned that she was planning a Katonah Workshop, I was so glad because I had been curious to learn more about it. I'm so glad that I have attended both of her workshops!
Even though I've practiced yoga, for over 20 years, what I learned in the workshop is that Katonah works in conjunction, with any other type of yoga (and life) to help you understand where you are mentally and physically. I'm thinking more about the stability of my poses, and trying to be more focused on holding poses properly. I already feel like I am getting stronger.
I'm much more aware of not just my breath work, but of opening up my lungs, so I can breath more efficiently. I've always understood the importance of breathing properly, in yoga classes, but through the exercises that Kat teaches, during the workshop, I began to understand more clearly how quickly breath can change what is going on in my body and my mind.
Kat imparts a huge amount of information, in her workshop. She makes learning about this new way of thinking and breathing, while practicing yoga, fun and interesting. She helped me realize that I had formed bad habits in poses and breathing, that I could easily correct, once I had the knowledge. If you want to take your yoga practice, to the next level, spend some time in Kat's Katonah workshop. —-Lee Sewell
$28
---
---